With more than a century of trusted experience in water treatment solutions, Elkay provides customers with safe, professionally-treated drinking water aimed to suit every possible household need. Clean water is sustainably available through the use of Elkay's products with innovative water purification technology, high efficiency and outstanding product quality.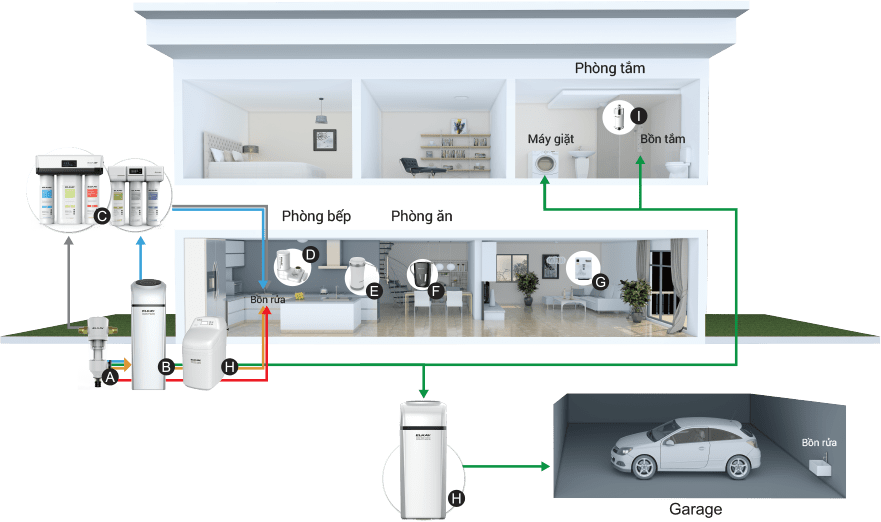 1. Point of Entry Water Solutions
Pre-Filtration Sediment Filter
Central Water Filtration System
Central Water Softener
Water treated by the Pre-Filtration Sediment Filter removes sediment such as dirt and debris at a home's initial point of entry. Water then treated by the Central Water Filtration System removes further impurities, such as sand, bloodworm, rust and colloid, while extending the life of home appliances and plumbing.
2. Drinking Water Solutions
Undermount UF Water Filter System
Undermount RO Water Filter System
Faucet Water Filter
Countertop Filter
Pitcher Filter
Intelligent Speed Hot Water
The Undermount Filter Systems (UF and RO) are installed under the kitchen sink, which provide customers with clean, filtered water, right from the tap. These water filter solutions (Undermount, Faucet, Countertop, Pitcher, and Hot Water Dispenser) improve the quality of drinking water by removing contaminates such as bacteria, lead, arsenic, colors and odors.
3. Hard Water Solutions
Central Water Softener
Shower Filter
The Central Water Softener eliminates water hardness while reducing scale build-up and impurities, prolonging the life and efficiency of appliances within the home. Laundered clothes are brighter and softer , while water further treated by the Shower Filter protects and conditions skin's natural smoothness.