ELKAY – FAMILY OWNED SINCE 1920
The Elkay Manufacturing Company began as a vision of Leopold Katz and his son Louis on the North side of Chicago back in 1920. Founded with the goals of manufacturing the highest quality sinks and providing the best service possible, the company began to thrive. As time went by, we set the pace with new products, designs and innovations that continue to lead the industry. Today, with more than 3,500 employees worldwide, we are proud to be America's number-one selling stainless steel sink company.
New Products, Designs and Innovations
To meet the demands of a changing marketplace, over the years we have expanded from our base business to include the manufacture of faucets, water coolers, drinking fountains, bottle fillers and filtration products. We then added a cabinetry division and achieved our goal of being a more complete supplier of kitchen and bath products for both residential and commercial installations.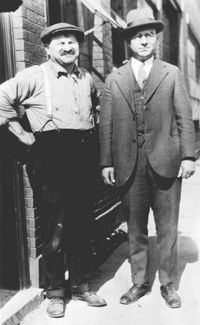 We are in Business Forever
We all have the responsibility to leave the business stronger than when we started. Continuous improvement is necessary for growth and continued future success.
Our Word is Our Bond
The same goals that began three generations ago continue today. As a family-owned company, we're dedicated to your complete satisfaction. Above all else, our word is our bond. We honor our commitments with integrity to our customers, employees, suppliers and the communities in which we live and work.
American-Owned and Operated
Elkay is an American-owned and operated company, providing thousands of jobs that support our families and communities.